So, you want to cash out your rewards to Venmo? No problem!
How to Link a Venmo Account
Sometimes when attempting to link a Venmo account, there will be a message saying to first link a PayPal account. If you haven't received this message, please head straight to step 2 below.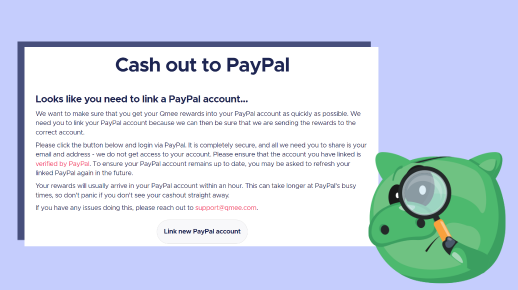 If you did receive this message and you're wondering why, it's just because we want to ensure that your rewards remain secure and that they will be going to the right account. By adding this extra step, we add an extra layer of verification, which means we can make sure your rewards are going to the correct place.
Step 1 – Link a PayPal Account
When you go to add your Venmo account, you may come across a message asking you to first cashout to your PayPal account. This might seem confusing at first, but this allows us to verify your identity and keep your cashouts secure.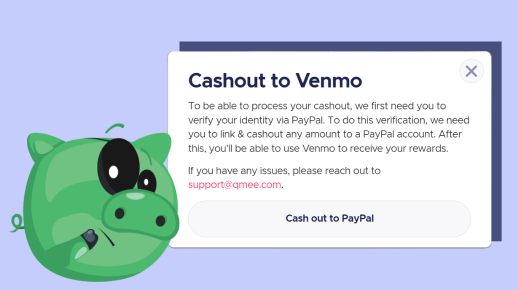 To be able to cashout to PayPal using Qmee, you need a verified PayPal account. Check out our blog on how to get a fully verified PayPal account in the US. Once you have a verified PayPal, you can link it to your Qmee account. If you need more information on how to link your PayPal account, you can check out our tutorial.
Once you've done this, congratulations – you can then make your first cashout to PayPal!
Step 2 – Link your Venmo Account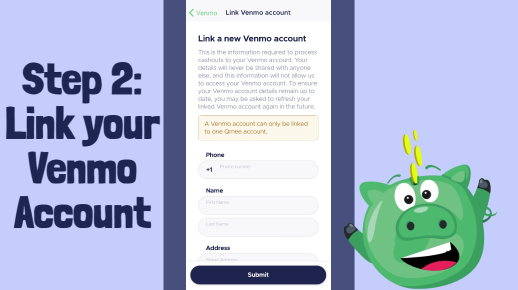 Once you've cashed out to PayPal, you can then link a Venmo account. Just head to the rewards balance page, and select 'Venmo' as the cashout option. Here, you will be prompted to fill in the information needed to connect your Venmo account.
Your information, including your phone number, will not be shared with anyone else, nor will this information enable us to access your Venmo account.
Once you've filled in this information, you can securely cashout your rewards to Venmo!
To ensure your Venmo account details remain up to date, you may be asked to refresh your linked Venmo account again in the future.
Why Cashouts aren't Always Instant
A lot of the time when you cashout, your rewards will be in your Venmo or PayPal account quickly. But, sometimes, it may take an hour or two for your Qmee rewards to find their way to your account. Most cashouts happen quickly, while some can take a while. 
The time it takes for your rewards to reach your account depends on when you cashout and how many times our users are choosing to cash out. The more cashouts there are, the longer it takes the cashout providers to process the transaction. Although, a lot of the time they will be with you by the time you've made a cup of coffee! 
You only need to email our support team if you can't see your rewards in your Venmo or PayPal account a minimum of 4 hours after cashing out. But, if you do need to get in touch, drop our super helpful support team an email at support@qmee.com, where they will be happy to help!